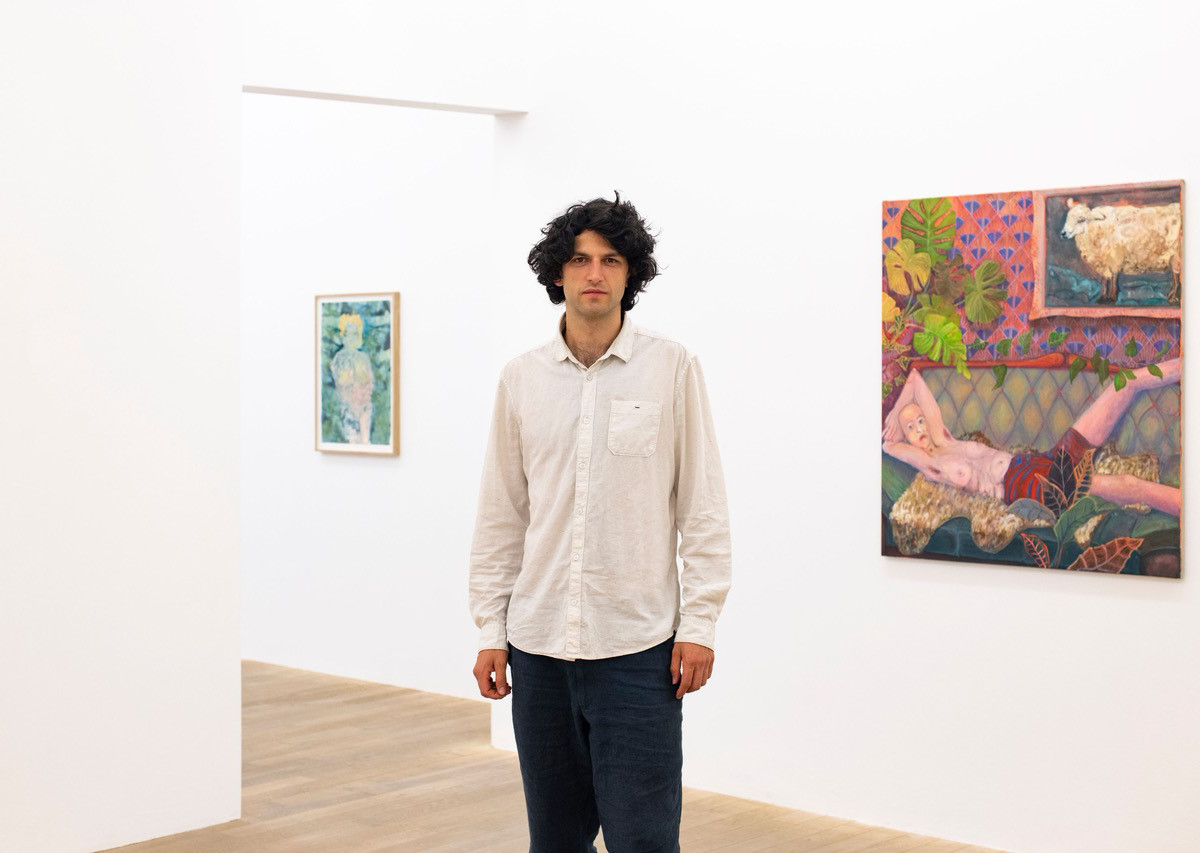 Portrait of the artist Andriu Deplazes, photo: Sebastian Schaub, Galerie Peter Kilchmann
Great empathy is evident in the paintings and drawings of Andriu Deplazes. Numerous exhibitions in recent years have shown him to be an artist who deftly counters the subjective instability of the present with pictures characterised by precision. There is an inherent uncertainty to them as well as an intuition of the vulnerability of people and nature. A sense of imperilled happiness blossoms in his radical and yet sensitive Expressionism.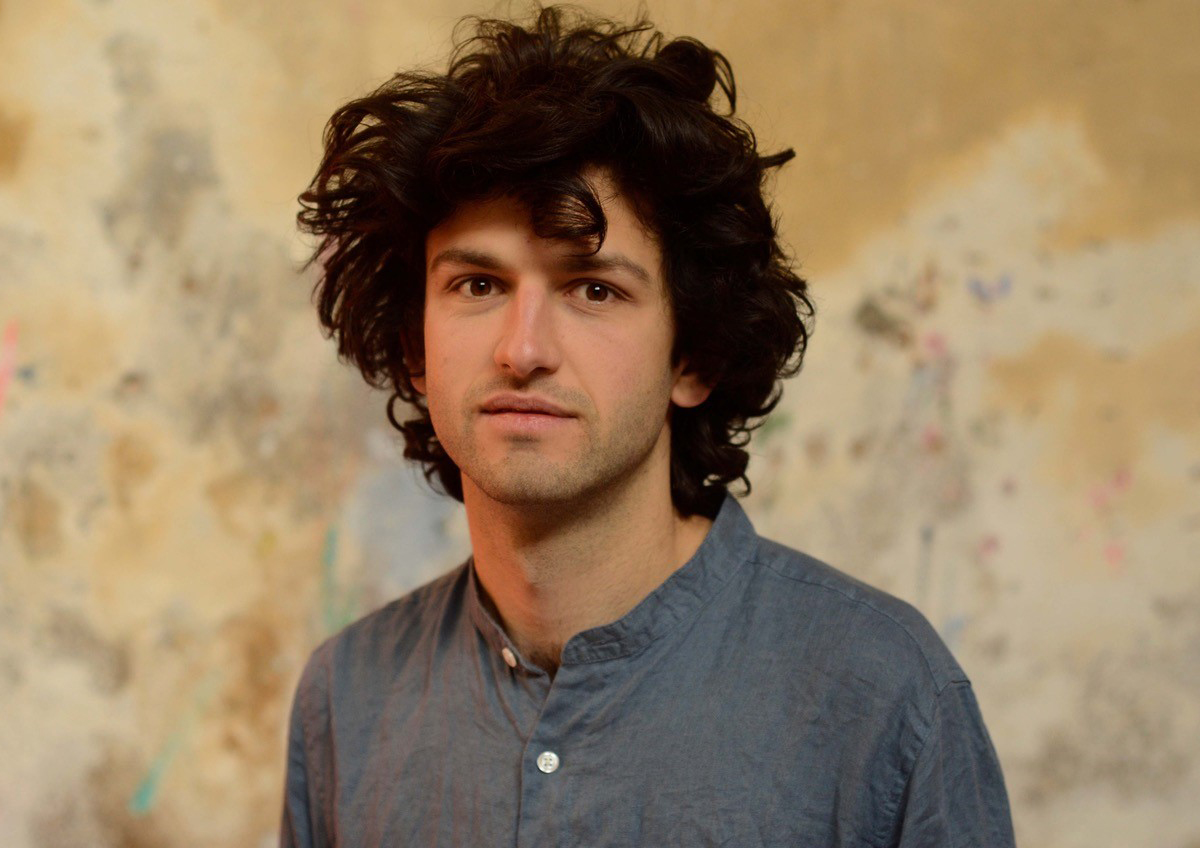 Andriu Deplazes lives and works in Marseille, France and Zurich, Switzerland, photo: Sebastian Schaub, Galerie Peter Kilchmann
Painting is memory too
The paper soaks up the sky with the blue of yearning. The artist's gaze into the distance yearns to return to a time when the yonder was still cause for veneration. In Andriu Deplazes' 2020 work 'Blauer Körper vor Himmel' (Blue Figure Against the Sky), the figure stands like a drunkard, its airy silhouette – is that head veiled? – seemingly held up by nothing more than a hedge. Viewed from the rear, the figure is at its limits, and the individual dream seems to have been shattered by general knowledge about the fragility of the world. In another work, cloud-like heads above volcanic tuff stone simultaneously force the colour upwards: the four ascending bodies in 'Vier aufsteigende Körper' (Four Rising Bodies, 2020) recall the floating female figures created by Ferdinand Hodler over a century ago, gazing up into infinity. All the titles came afterwards, says Deplazes, who was born in Zurich in 1993. Sometimes they undermine the gravitas of the message with ironic punchlines: what even are the 'Gelbe Punkte, schwarze Punkte' (Yellow Dots, Black Dots, 2020) in this day and age, an era characterised by war and destruction? The painter throws a boisterous arc of ink over the helicopter in reference to the American artist Nancy Spero, adding a virile gesture to her feminist-inspired criticism of the Vietnam War.
From left to right: Andriu Deplazes (b. 1993), 'Vier aufsteigende Körper', 2020, ink on paper, 26 x 35 cm; 'Gelbe Punkte, schwarze Punkte', 2020, ink on paper, 32 x 24 cm; 'Blauer Körper vor Himmel', 2020, ink on paper, 32 x 24 cm, © 2022, ProLitteris, Zurich, courtesy Julius Baer Art Collection, photo: Sebastian Schaub, Galerie Peter Kilchmann
A route to drawing
After completing his studies in Zurich and Brussels, Deplazes devoted himself primarily to painting. In the last few years, however, he has created an extensive oeuvre of graphic works parallel to his oil paintings. It is no coincidence that the change in medium occurred at the same time as Deplazes' personal experience of the atmosphere overshadowing Brussels – where he then lived – after the 2016 terrorist attacks. Figures are hastily flung into the picture, creating a portrait of an explosive contemporary era. Equipped with cartridge cases, suicide attackers wander like ghosts through the white background, while the terrified figure reaches out for the sunflower as though for a shield. Trees seem to be infected by the general state of arousal, and the Mother of God mutates into the shrouded bearer of a fallen soldier. It was in his 2019 exhibition at Bündner Kunstmuseum that Andriu Deplazes first called attention to this new kind of Expressionism. Only the previous year he had been inspired by the oeuvre of poet and painter Henri Michaux. "You're allowed to do this," was the notion that encouraged him: you're allowed to welcome a bulky line, you're allowed to indulge in melancholy in free-flowing colours. You're allowed to expose the sore point in a hurried gesture, and then look on as simplicity touches a nerve of the age.
Imperilled happiness
At Zurich university, which grants aspiring artists access to the full spectrum of all the different media, the limits of the canvas came as a relief for him. "This is what painting can do: open everything up, and in the process plunge from one reality to another," says Andriu Deplazes today, and his tone of voice betrays a readiness to let himself be surprised by reality with every new work. Deplazes' homeless protagonists gaze out of their world. Prostrate, they recline in paradises of the kind depicted in colour by Pierre Bonnard or Paul Gauguin for the last century. Deplazes' blend of old-fashioned style and today's 'bad painting' is – with all due respect – shocking. "Everything that at first glance we think we see as a natural spectacle is actually made by human hands." Is 'nature' sufficient as the Other when global economic interests so irreversibly subvert the topography of the globe? Is a human being primarily a man, a woman, or above all a body, and solitary at that? Deplazes thematises what is shared – gemeinsam – as well as what is alone – einsam. His pictures hallucinate couples and families in a state of imperilled happiness. The human being is shown naked and exposed between flower buds that glow, inflammable, like poppies; crouching on the banks of ponds with yellow lilies; seldom at home with architecture, preferring to balance over the last remaining edges of eternal snow or finding support between clods of earth that extend as a monoculture out into the vastness. No desperation can drive out our empathy for the people who look back at us, so provocatively vulnerable.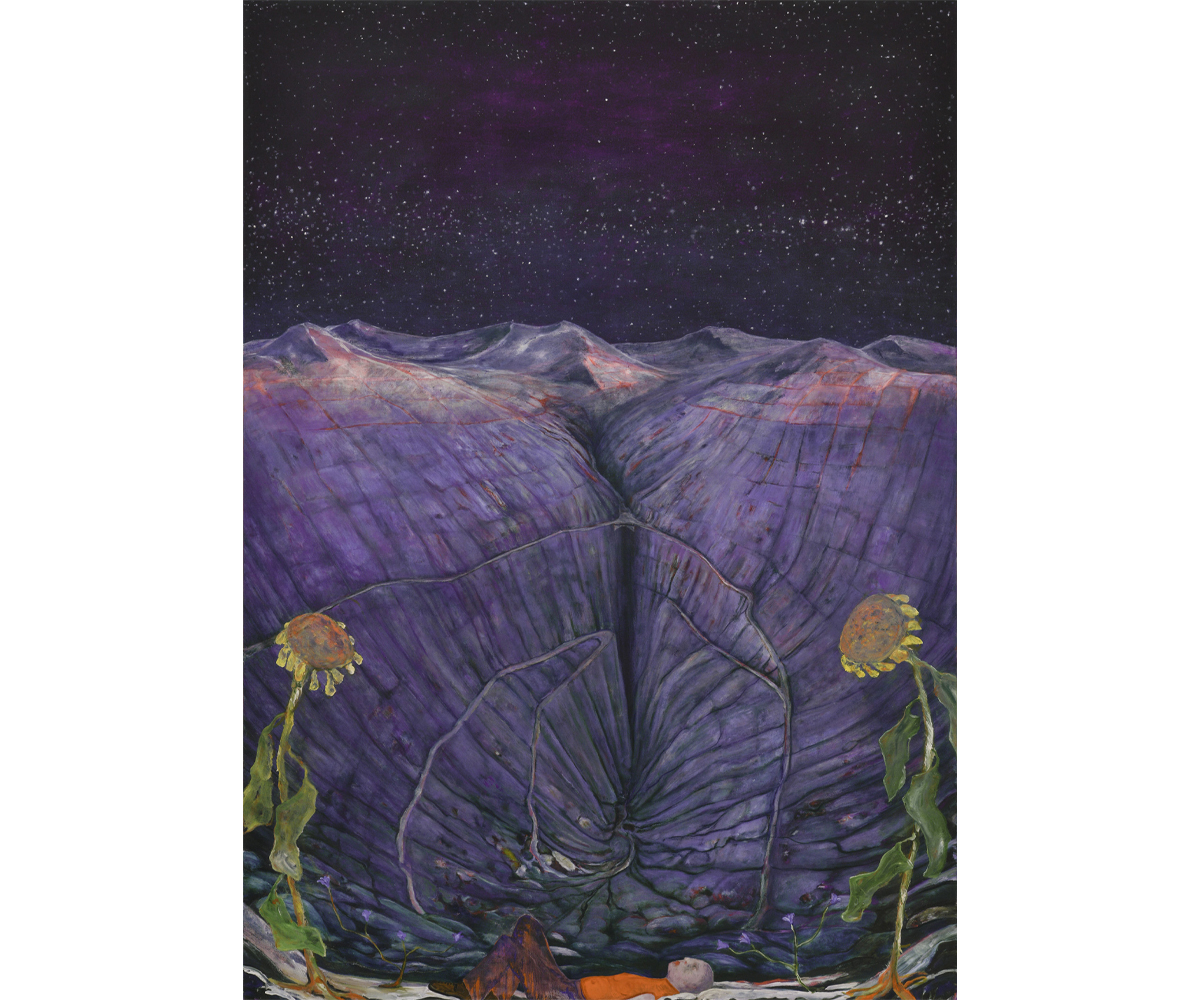 Andriu Deplazes (b. 1993), 'Liegen zwischen Sonnenblumen', 2021, oil on canvas, 263 x 178 x 3.5 cm, © 2022, ProLitteris, Zurich, courtesy Julius Baer Art Collection, photo: Sebastian Schaub, Galerie Peter Kilchmann
Eco-political issues
Not only does Andriu Deplazes nonchalantly interrogate the myths of historical paintings, he also borrows the artificiality of his landscapes from the aesthetics of game designs. Moreover, the most recent picture in the Julius Baer Art Collection, 'Liegen zwischen Sonnenblumen' (Lying Among Sunflowers, 2021), uses views of African copper mines, which interest Deplazes on account of the greenish tinge to their colour. "The picture of mines is certainly a key piece that amalgamates many different aspects of my work." In this respect, the bank has acquired a work that – even more explicitly than the drawings do – touches on global issues. Our exploitative economy fails to consider the consequences to society and the climate as it plunders the earth of its mineral resources while also fuelling the demand with endless information. The crack in the rockface is dangerous, the moraine oscillates between lifeless stone and a suffused gorge, and a chain of satellites has been invoked in the heavens, of the kind that Space X sends around the globe. "When the man in the street comes to his senses, he may well get a shock." While it is true that the sunflowers are turned to face the reclining person, their heads weigh heavy. The mountain range has lost its innocence.
Author: Isabel Zürcher