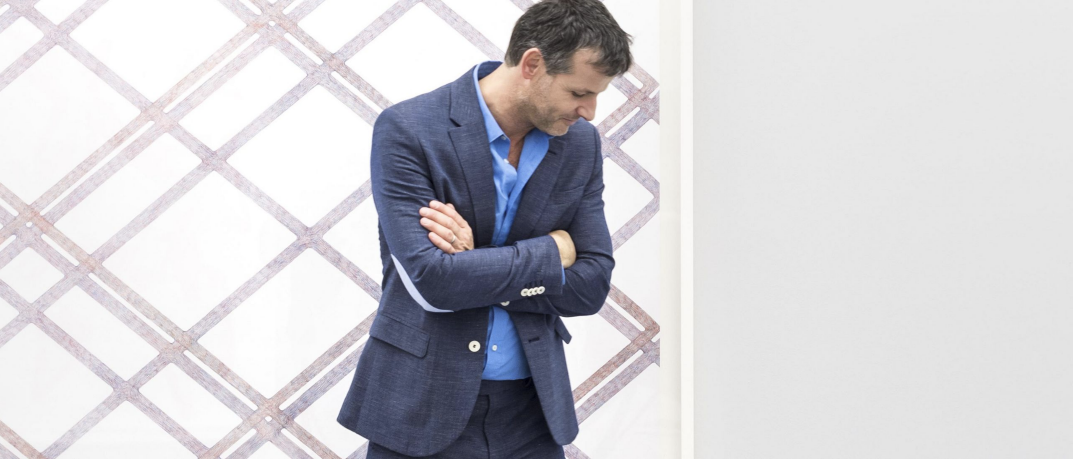 Karim Noureldin in front of one of his works
Julius Baer will be presenting two exclusively developed textile artworks by Swiss-Egyptian artist Karim Noureldin at Art Dubai between March 21 to March 24, 2018. This marks the fourth consecutive year that the bank is extending its support to the leading international art fair in the Middle East, Africa and South Asia.
As the main sponsor of the Art Dubai contemporary section in 2018, Julius Baer commissioned Karim Noureldin to create two large-scale textile artworks that will be shown for the first time at the Julius Baer lounge at Art Dubai. From Pen to Thread: "Des" is an immersive installation of artworks based on drawings made by the artist and produced in close and exclusive collaboration with two renowned high-end producers of handmade woven textile objects in India, Bharat Carpet Manufacturers and Rajput Arts. The Julius Baer lounge itself has been designed in close collaboration with Karim Noureldin, who has a strong background in architecture and is well known for his site-specific installations and permanent architectural interventions.
Commenting on the sponsorship and the Bank's ongoing support for the local arts scene, Rémy A. Bersier, Head of Emerging Markets and Member of the Executive Board, Bank Julius Baer & Co. Ltd. said: "Julius Baer is proud to continue its association with Art Dubai. This sponsorship is a testament to Julius Baer's ongoing commitment to promoting visual art globally as well as supporting the emergence of Dubai as a leading arts and culture hub."
Barbara Staubli, Curator and Head of Art Collection at Bank Julius Baer, said: "The Julius Baer Art Committee has been following Karim Noureldin's career for the past several years and purchased the first drawing of the artist in 2010. Since then, we have acquired additional artworks of Noureldin as his oeuvre convinces us again and again given the unique balance between innovation and consistency. Having a solid background in architecture and design, Noureldin is known for his site-specific interventions, and is the perfect choice to create a very special experience presented by Julius Baer at Art Dubai 2018."
Karim Noureldin is widely recognised and exhibited internationally in Zurich, Berlin, London, and Beijing among others. Born in Zurich, Noureldin currently lives and works in Lausanne, Switzerland. The visual artist studied Fine Art and Design at the University of Art and Design Zurich, and Fine Arts at the University of Art and Design Basel. He has been an Associate Professor of Fine Arts at ECAL/University of Art and Design, Lausanne since 2002. Today, he is a standing member of many prestigious Swiss cultural institutions and councils including the Pro Helvetia Swiss Arts Council, and serves as a member of the Board of Directors of Rupf Collection in Bern, Switzerland. Throughout his career, Noureldin has received many prestigious awards including, the Swiss Art Award (1997) the Kiefer Hablitzel (1997), as well as the Manor Art Price (2004).
The Julius Baer lounge will open to the public on the closing day of Art Dubai, Saturday March 24, 2018 whereby art enthusiasts can view the two exclusive site-specific textile installations by Karim Noureldin.
Photocredit: Andreas Zimmermann