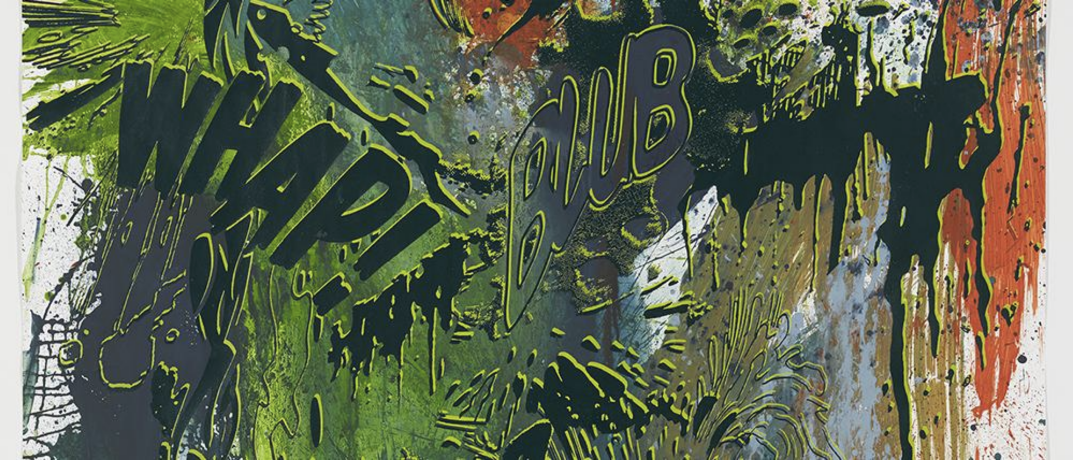 Christian Marclay, Action, Splat Splooch Whap Blub Squich, 2014, ink and acrylic on paper, 213.5 × 148.2 cm (Detail)
The intersection between sound and silence may seem daunting, obscure, and even impossible to portray. Enter Swiss-American artist Christian Marclay, whose vibrant pieces depict an astounding level of sound all the while being completely inaudible.
Born in 1955 in San Rafael, California, to a Swiss father and an American mother, Christian Marclay was raised in Geneva, Switzerland. His fine art studies took him from the École supérieure d'art visuel in Geneva to the Massachusetts College of Art in Boston to the Cooper Union in New York.
As a student he was drawn to the Fluxus movement of the 60s and 70s, which allowed him to explore and define his artistic techniques using a wide array of media. Having won international acclaim in 2010 for his looped 24-hour film montage 'The Clock', Marclay now divides his time between London and New York, finding inspiration in the sights and sounds that surround him.
Not your typical artist
Although Marclay has worked with varying media, including sculptures, performances, sound-based collages, ready-mades, videos, and paintings, he is often touted as a 'sound artist'. Music critic Thom Jurek describes Marclay as the 'unwitting inventor of turntablism' for his early work using records and turntables (in which he recorded himself with a revolving turntable strapped to his chest while smashing the Jimi Hendrix LP it played).
He is also celebrated as an avant-garde DJ – he was one of the first to use a turntable as a musical instrument, scratching records to produce alternative sounds. Indeed, his repertoire of record-related works is extensive – he has stacked records in massive black columns, scarred them with images, and even melted them into cubes.
3, 2, 1 – action!
When the Julius Baer Art Committee saw the opportunity to acquire a key piece from Marclay's 'Action Paintings' series, there was no hesitation. Barbara Staubli, Curator of the Art Collection, explains, "Christian Marclay is one of the most exciting artists of our time. He explores the relationship between art, music, and pop culture in his multi-layered work and has received international recognition for his pieces." The Committee, responsible for the acquisition of new pieces for the ever expanding the boundaries of innovation and creativity. This newest acquisition's grandiose expression of real-world sounds makes us aware of how phenomenally pleasing it is to hear' with our eyes.
Displayed on paper with mechanically silk-screened text, 'Actions: Splat Splooch Whap Blub Squich' incorporates sound mimesis from comic books and ultimately challenges silence in its very presence. Given Marclay's penchant for collecting comic books, his bold displays come as no surprise. Sharis Alexandrian, Director at White Cube art gallery in London, explains, "With the 'Action Paintings' Marclay explores the representation of sound through the visual arts in a totally unique way; through onomatopoeia taken from comic books … in these paintings he focuses solely on the wet sounds suggestive of the action of painting."
Hand-designed using ink and acrylic, the texts vary in size, colour, and form, and represent sound dynamics in a similar fashion to musical notation, appealing to one's auditory senses in the absence of noise. Painted using mops, sponges, and even water guns, the masterpiec nears completion once the screen printing overlay has been applied. The final step may manifest itself as a performance – Marclay often collaborates with musicians who interpret his pieces as graphic scores, making him, in addition to an artist, both a performer and composer.
The first acquisition
This piece, however, is not the first by Marclay that the Julius Baer Art Committee has acquired. Back in 1998 the Committee obtained its first video work, titled 'Telephones' (1995). Interested in the principle of 'sampling', which, for Marclay, consists of reassembling fragmented objects such as LP covers, vinyl records, and musical instruments, he compiled brief clips from various Hollywood classics. The emotional seven-and-a-half-minute storyline montage features film stars making and receiving phone calls. Much like 'The Clock', which made its world debut 15 years later using the same technique, 'Telephones' is a story told by unified fragmented clips which results in a graceful, overarching conversation for Marclay to call his own.
The story continues
Marclay's script does not end there. Heavily focused on upcoming exhibitions, he undoubtedly has a long list of visionary ideas waiting to be realised. And with the recent acquisition of 'Actions: Splat Splooch Whap Blub Squich', it is no surprise that the Art Committee is eager to see what he will come up with next. Staubli explains: "Having had the opportunity to acquire a second piece by Marclay, we are excited to see his upcoming exhibitions that will surely inspire a revolutionary way of viewing, and listening to, the world."
Author: Zoë Wälchli