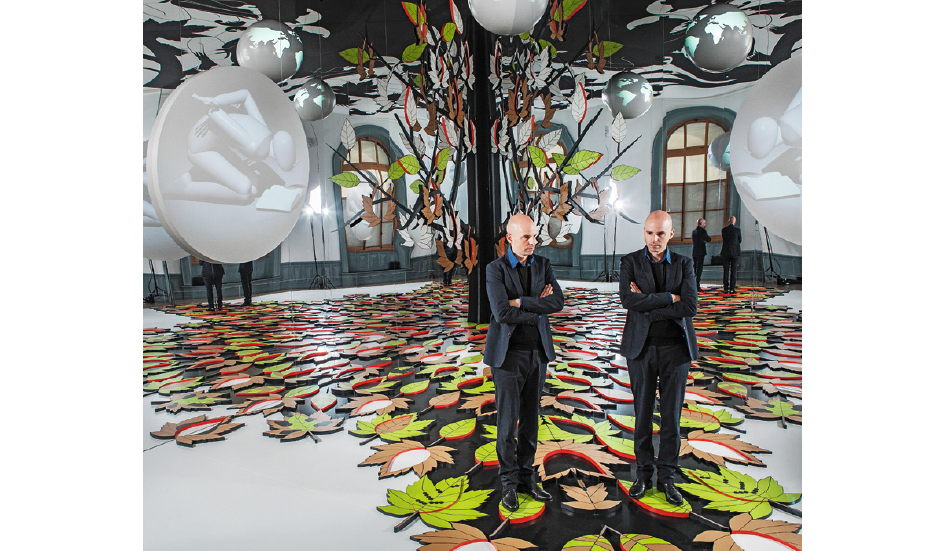 Portrait of Yves Netzhammer, installation view of the exhibition 'The Subjectification of the Repetition, Project B' in 2007 at Kunstmuseum Bern
Zurich-based artist Yves Netzhammer has transformed the premises of Museum Haus Konstruktiv into a poetic and atmospheric multimedia visual cosmos. Since the Art Committee discovered Netzhammer's talent at an early stage in his career, innovation has been the key word in his constantly evolving art. Today, the collection houses a representative selection of his works from his various creative periods.
A characteristic feature of Yves Netzhammer's work is his computer-generated visual language, which is reduced to its essence and defined by a cool, graphically flat aesthetic. What began as an oeuvre of digital drawings is continually broadening in scope to embrace animation, object art and video projections, as well as the more recent 3D prints and holographic rotors – and even whole-room multimedia installations. Netzhammer will often use a bricolage technique to interweave a mixed-media work into an emotive setting. An artificial and surreal world of images is revealed to the viewer, who discovers within it an astonishing degree of empathy and humanity. By invoking shifting, associative and deeply moving states of being, the works existentially explore the relationship between an individual and their environment while also dealing with issues of identity and models for identifying and addressing philosophical and socio-political topics.
Today, Yves Netzhammer is one of Switzerland's most famous artists. After growing up in Diessenhofen and Schaffhausen, he first completed an apprenticeship as an architectural draughtsman and then studied at the Hochschule für Gestaltung und Kunst in Zurich from 1990 to 1995. Not only has the artist realised numerous exhibitions at home in Switzerland and abroad, he also represented Switzerland at the Venice Biennale in 2007 and has undertaken multiple commissions for public spaces. Currently Netzhammer has taken over the gallery at Museum Haus Konstruktiv in Zurich for a solo show that is enigmatically titled 'Zwei kühle Zwergelefanten fressen Einfühlungsüberschuss mit Pfirsicharoma' (Two Cool Elephants Feed on a Surplus of Empathy with Peach Aroma).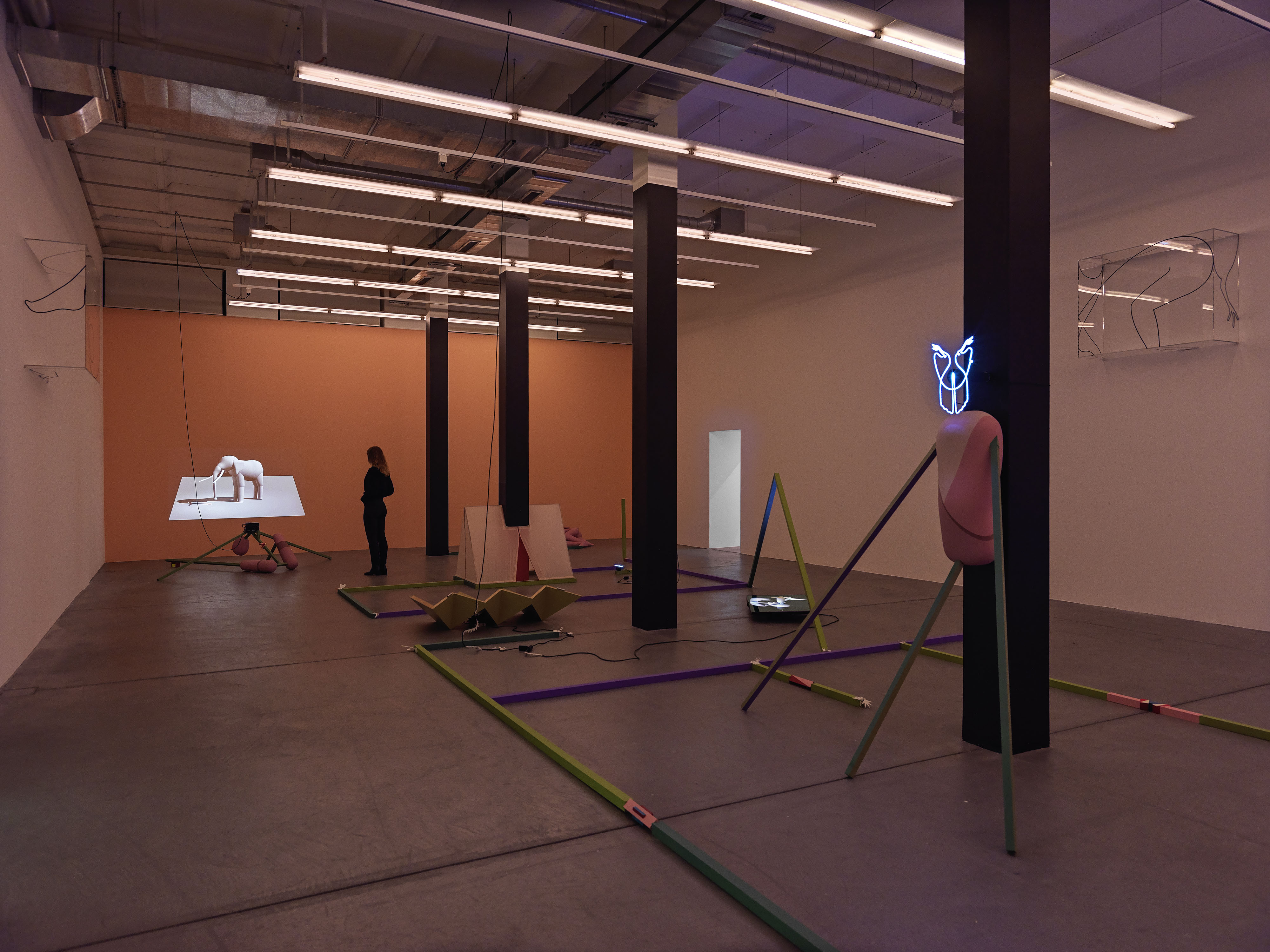 Yves Netzhammer (b. 1970), 'Zwei kühle Zwergelefanten fressen Einfühlungsüberschuss mit Pfirsicharoma', 2022, multipart room installation, Museum Haus Konstruktiv, 2022, wood, paint, puren, filament, metal, plexiglass, foil, computer animations, LED rotors, projectors, screens, cameras, sound: Anthony Pateras, photo: Stefan Altenburger, courtesy the artist. © Yves Netzhammer, 2022
The line enveloping the human realm
When visitors wander through the exhibition space, they are immersed in a multi-layered visual cosmos that is accentuated by sound. The world being revealed to them provokes the senses: it is subtle and sensitive, yet at the same time disturbing and signalling unease. Lines born of the original digital drawing become tangible and ubiquitous in the form of sculptural coloured rods, linked by white hinges, which accompany the visitors through the columned hall. At specific points they rear up and become one with fragmentary body parts. The wooden fragments are like a grid, lying next to other object assemblages in the scenery, creating trails, or acting as boundaries. In the twilight, small white glowing tubes are the components of LED rotors that mutate into hybrid creatures, wavering between human, animal, and plant. Dismembered pink human body parts are heaped on the floor, helpless and vulnerable; bearing neither a face nor an identity, they symbolise human fragility. An animated video projected onto the back wall shows an elephant in an unspecified location. Assorted objects establish contact with this sensitive animal through touch. Lines drawn digitally on plexiglass boxes are transformed into bent torsos. Everything is in a state of flux, flowing into each other and out the other side, touching and feeling, while the line envelops the sensory overload like a web, turning it into a single unit.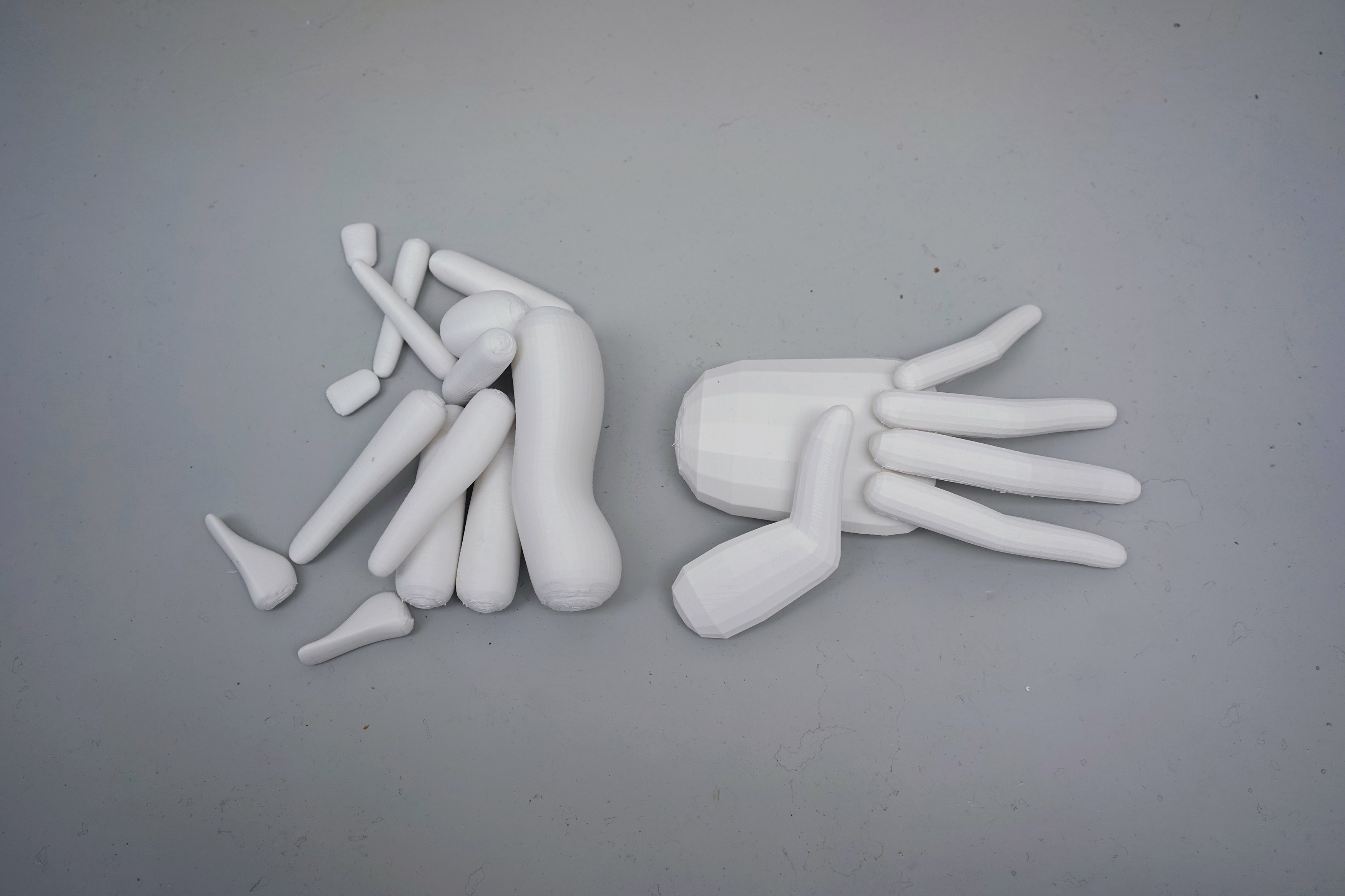 Yves Netzhammer (b. 1970), 'Experimental arrangement', 2022 © Yves Netzhammer, 2022
A metaphor for life
Assisted by 3D printing technology, the computer-generated drawing evolves into miniatures, presented on sterile white tables that recall an operating theatre. Bodies, either contorted with pain or completely dissected, cower next to structures that resemble plants or trees. Yves Netzhammer's visual system is infinite, featuring humorous arrangements that flash up periodically and recurrent motifs that come together in new media to create new constellations. The ambience is initially empathic and sensitive, but then shifts to sudden violence in some of the scenes – sequences that symbolise the dark side of human existence and allude to pretensions to power and the desire to possess it. The atmospheric and poetic nature of this whole-room multimedia installation reveals multifaceted moods ranging from tender, touching and sensitive through to cruel and ironic, culminating in moments that elicit smiles, invoking the whole gamut of emotions that metaphorically reflect human co-existence.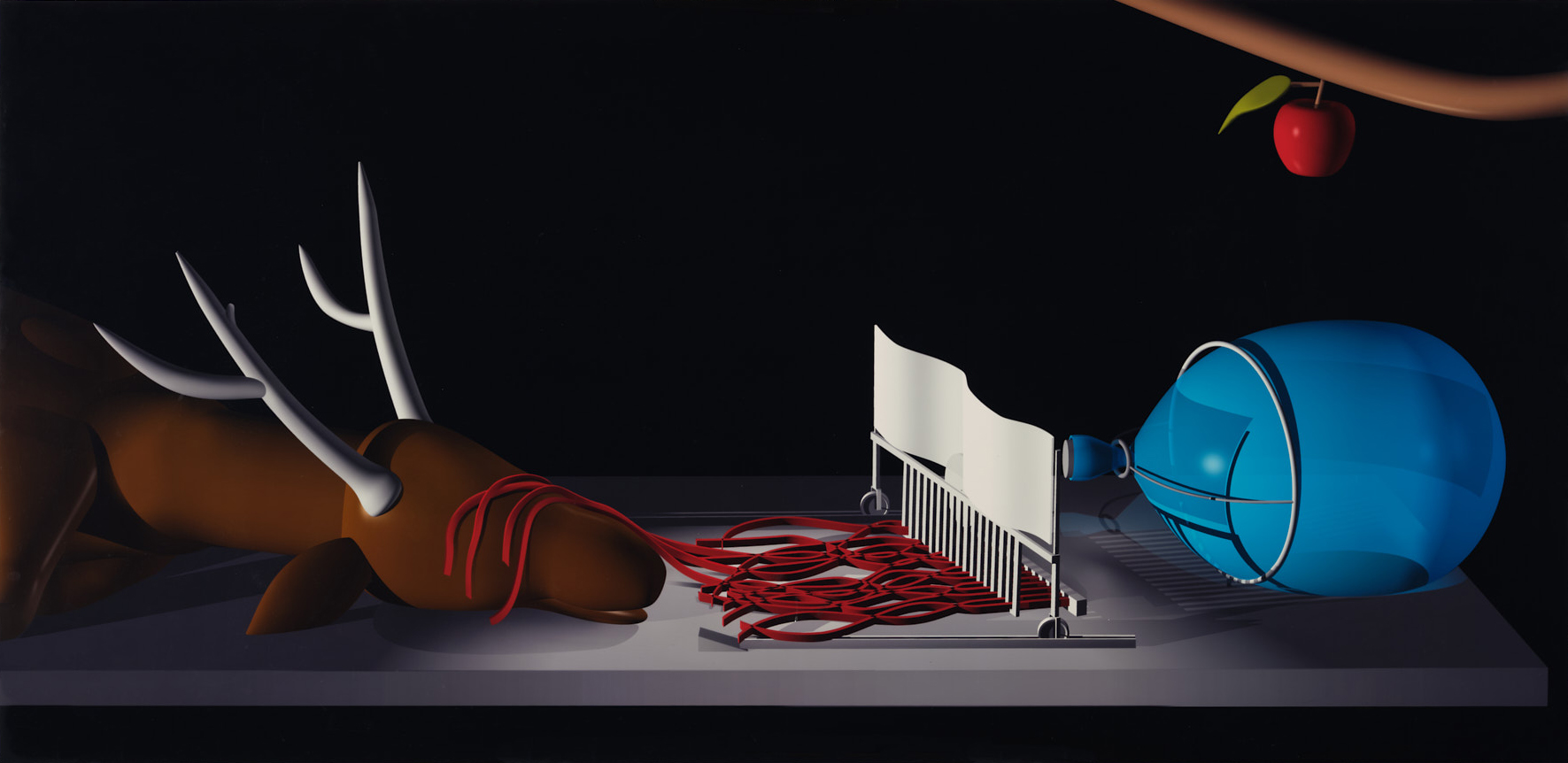 Yves Netzhammer (b. 1970), 'Untitled', 1999, C-print on aluminium, 80 x 164 cm, courtesy the artist and Julius Baer Art Collection, photo: David Aebi
Works in the Julius Baer Art Collection
The first work by Yves Netzhammer to make its way into the Julius Baer Art Collection was the digital drawing 'Untitled' in 1999, which touches on the issues of earthly existence and its vulnerability and sensitivity. In the intervening years, further works by the artist have regularly been added to the collection.
In 2011, as part of the St Moritz Art Masters festival in the Paracelsus building – a historical pump room featuring a medicinal spring – the site-specific intervention 'Schattendicken' (Shadow Consistencies) was designed specifically for the building and an object from the project was acquired for the collection.
The miniaturesque, multimedia project with the philosophical-sounding yet mysterious title 'Die Gegenwart sucht ihren Mund in der Spiegelung der Suppe' (The Present Looks for Its Mouth in the Reflection of the Soup, 2014−2015) exemplifies how Netzhammer rearranges recurring motifs – a halved deer or a stereotypical human figure – in a new setting. Depending on the viewer's position and perspective, the moving images in the video projection enter into a dialogue with the static objects, revealing a virtual world.
Netzhammer's most recent work to enter the collection was a group of eighteen computer-generated Coronavirus drawings, which were created in the first few months of the Covid19 pandemic as a diary documenting and reflecting upon this extraordinary time.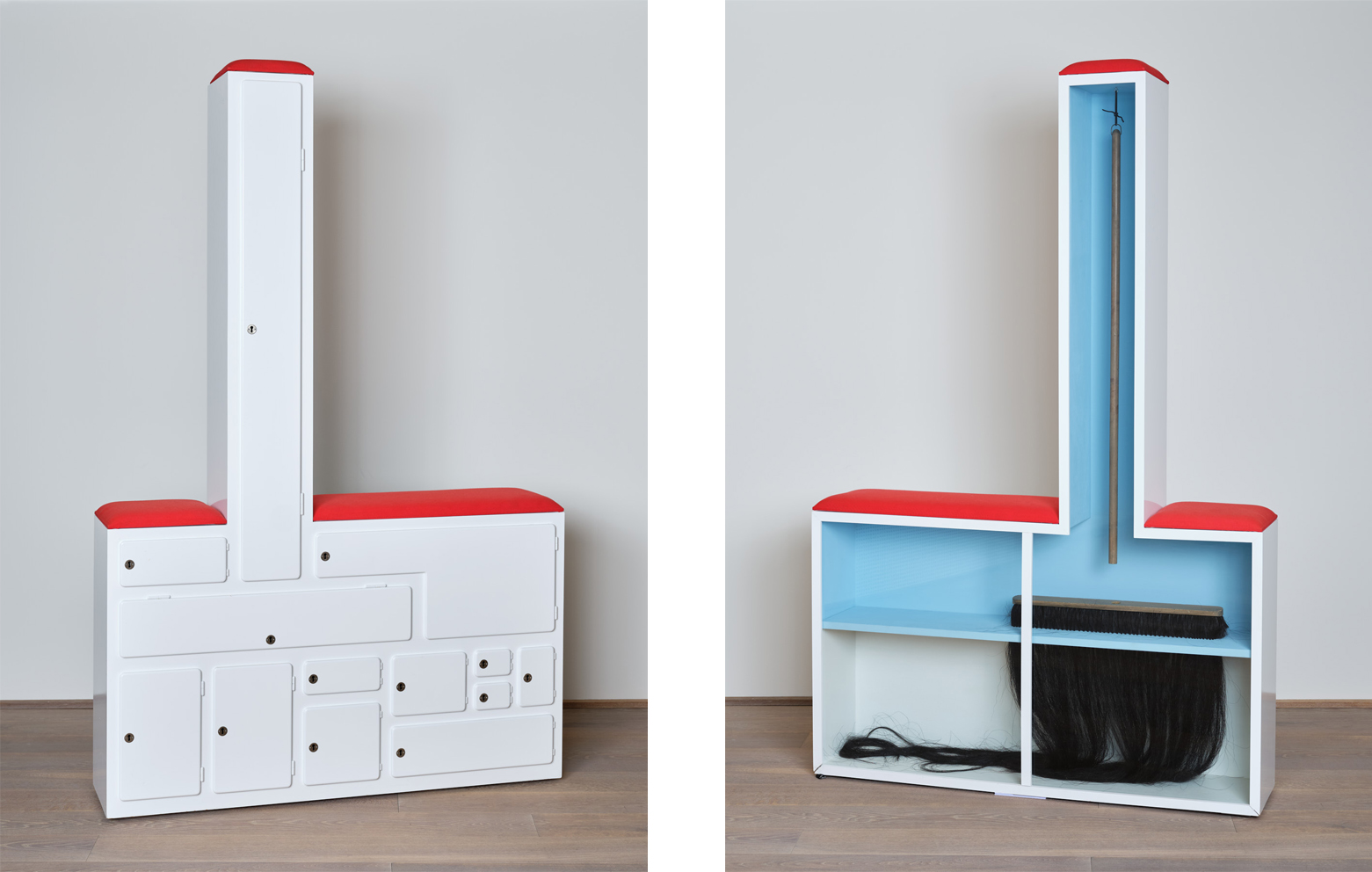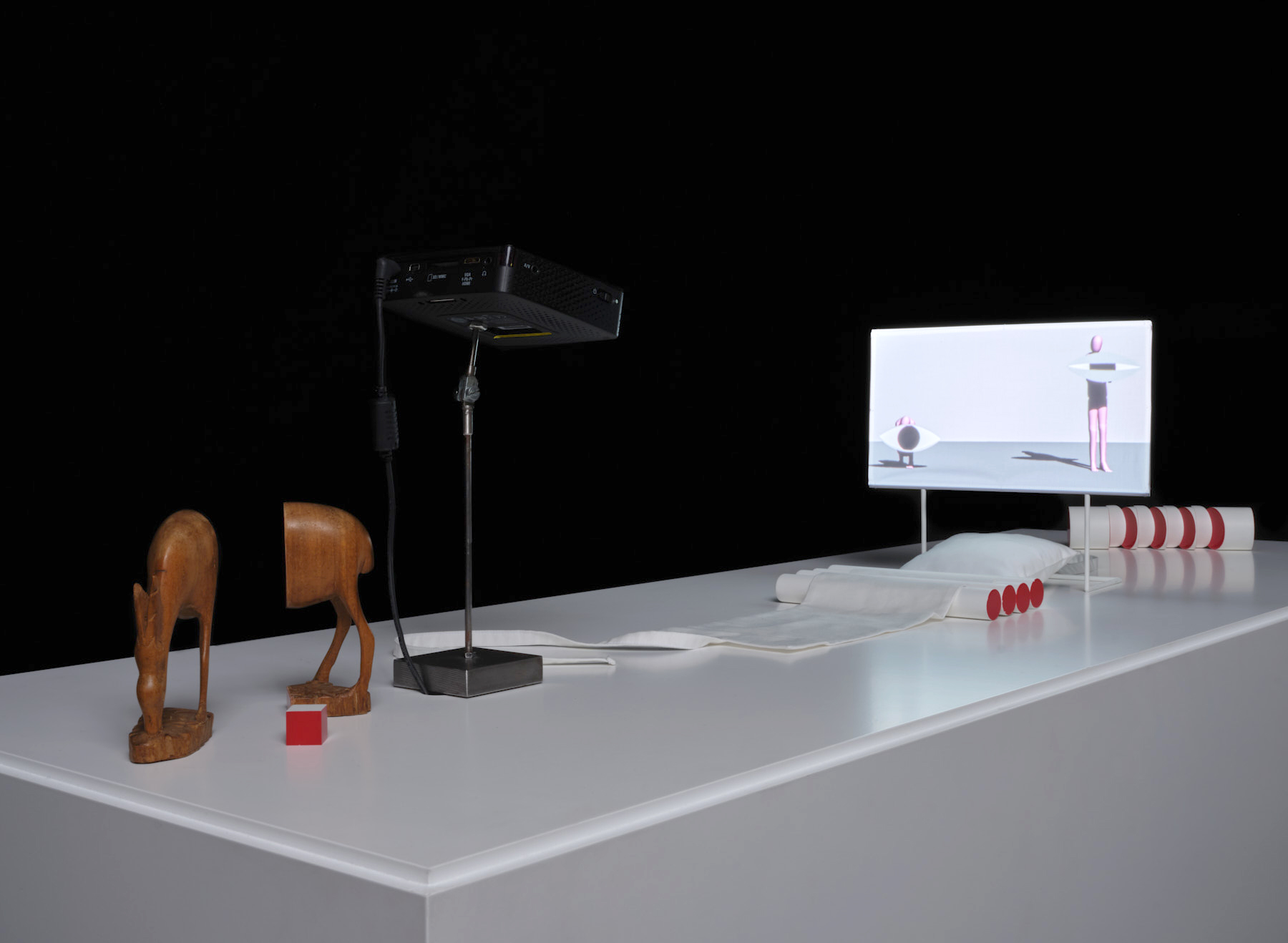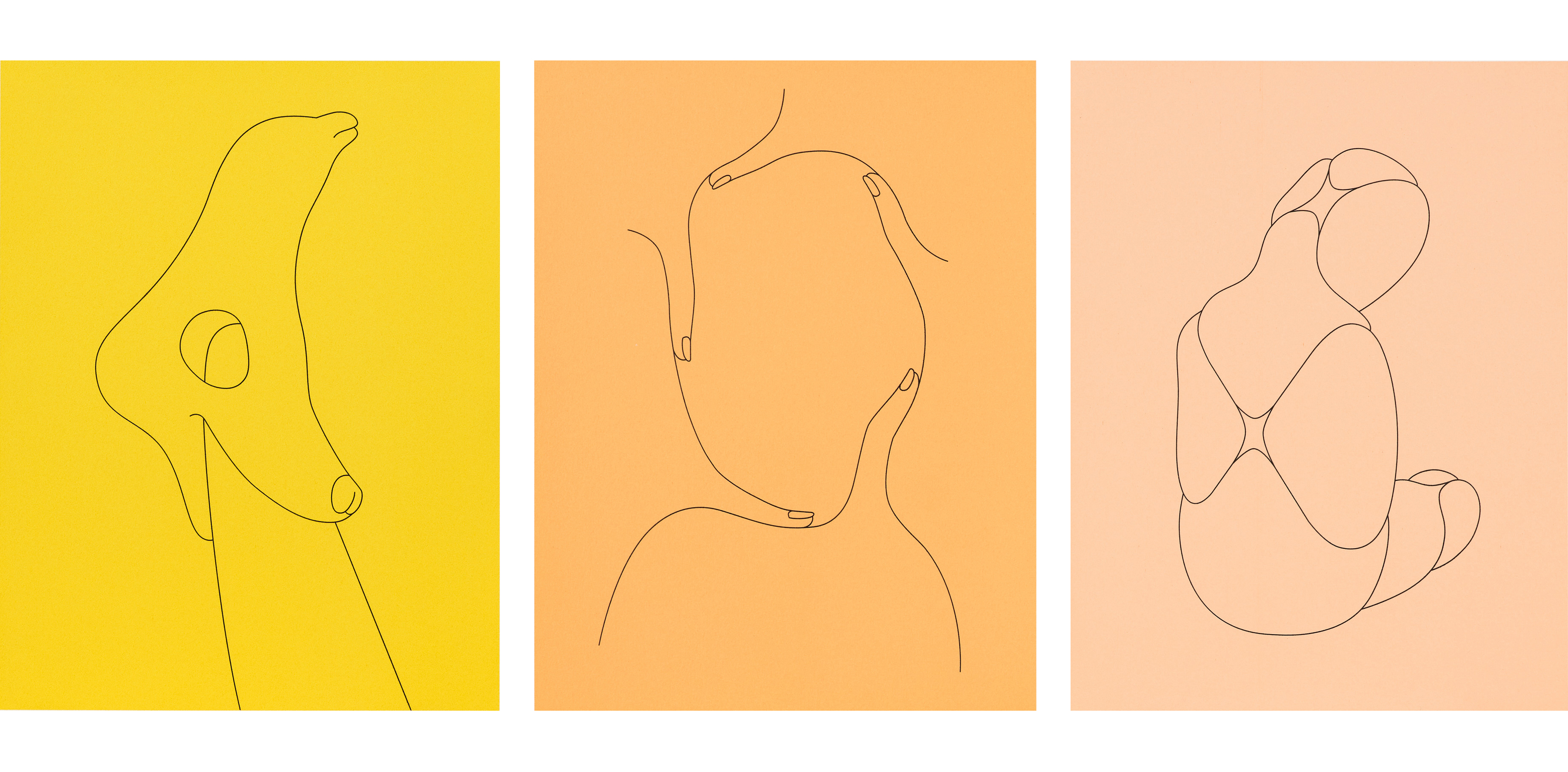 Yves Netzhammer is currently working on a 90-minute-long animated film called 'Reisen der Schatten' (Journey of the Shadows), which has been painstakingly thought through and planned out over a substantial period of time. Viewers will be able to admire the finished work in 2023, when it is scheduled for cinematic release.
Barbara Hatebur (Translation: Tradukas GbR)
Don't miss the exhibition 'Zwei kühle Zwergelefanten fressen Einfühlungsüberschuss mit Pfirsicharoma', Museum Haus Konstruktiv, Zurich, until 15 January 2023.