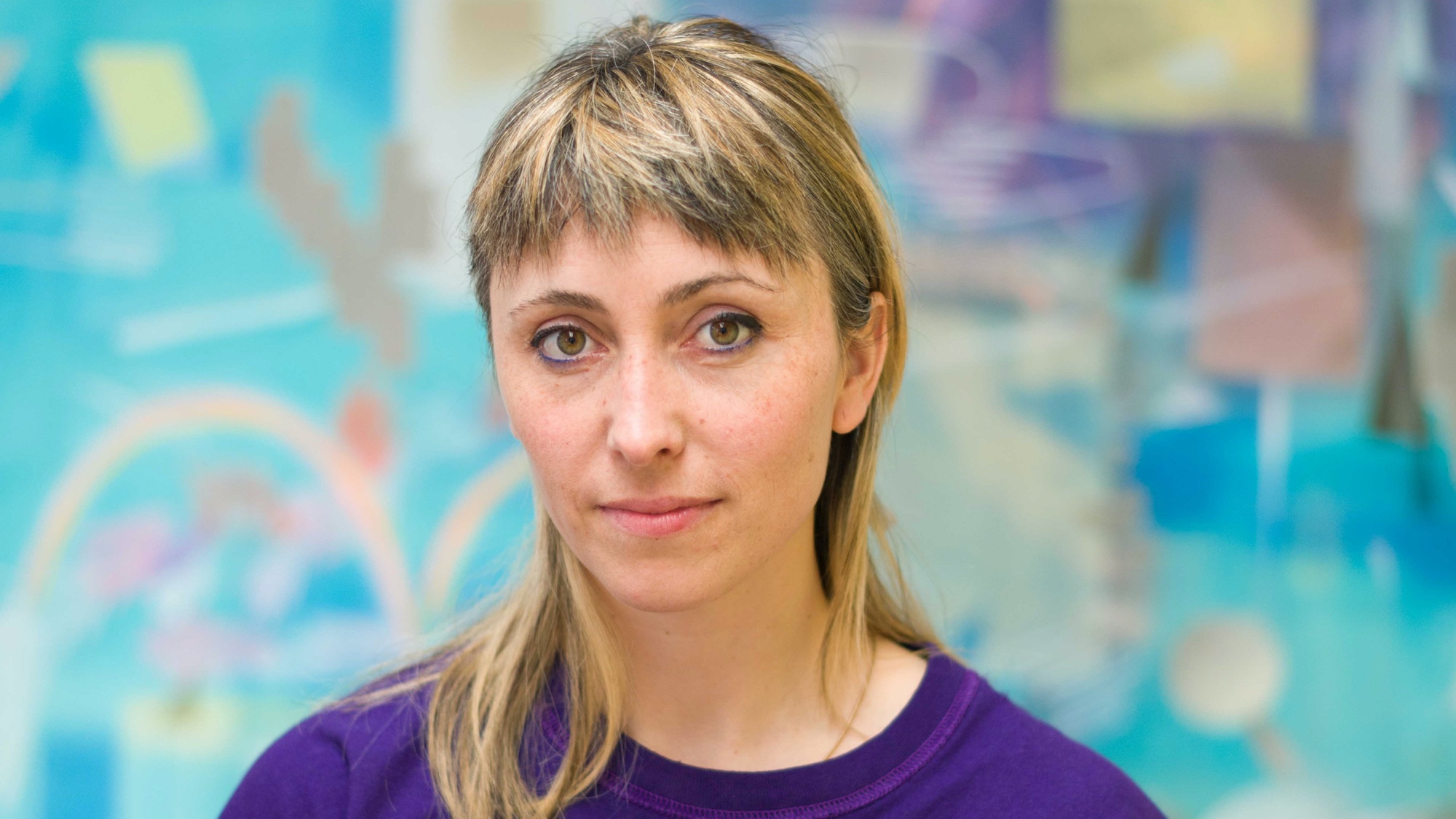 "Painting is like an invisible map that I'm working with and navigating with," says Julius Baer Art Collection artist Charlotte Herzig. Discover the story behind her work 'You can't be seen until you learn to see'.
In Swiss artist Charlotte Herzig's Berlin studio space, there was one particular canvas she routinely set to the side. She would labour on it for a week, then not touch it for a month. "I spent more time looking at it than painting on it. It stayed with me for quite some time," she explains.
Herzig finished the canvas in 2020 when she was reading about intuition—a core element of her practice—and encountered a book titled 'You can't be seen until you learn to see'. She gave the same name to the painting, a work that has since captivated more than just Herzig's attention, as it is now part of the Julius Baer Art Collection and will be on loan for 'I like a bigger garden', a major group exhibition at the Kunstmuseum Luzern from 10 July – 17 October 2021. It is one of eight large-scale paintings and a new quadriptych (a four-panelled painting) by Herzig that will be on view.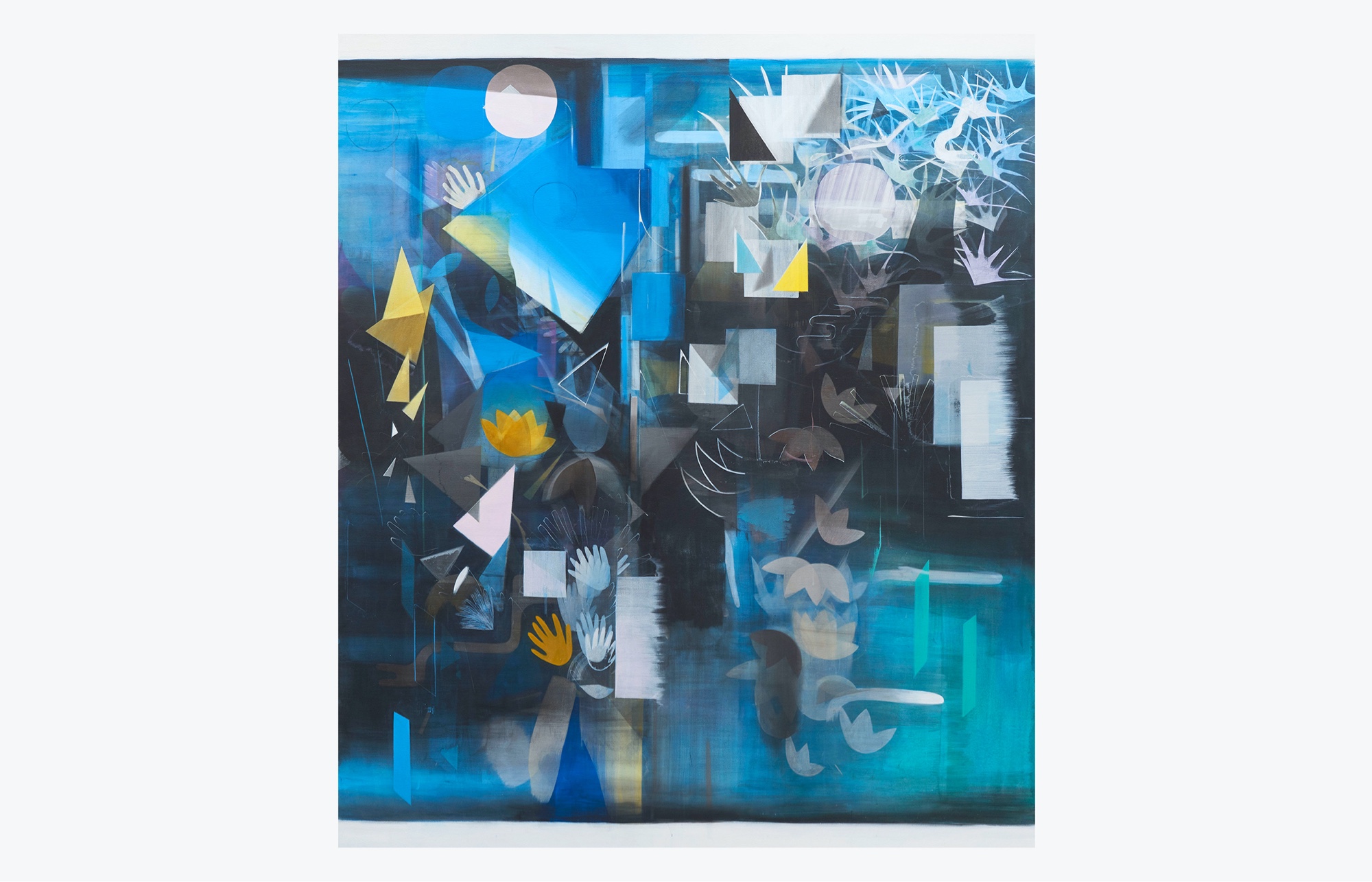 Charlotte Herzig (b. 1983), You can't be seen until you learn to see, 2020, acrylic on canvas, 210 x 180 cm, courtesy the artist and Julius Baer Art Collection
'You can't be seen until you learn to see' is a kaleidoscope of layered abstractions that seem to reach out toward the viewer. Variations of six-fingered forms percolate up and across the canvas, along with organic flower-like shapes, squares, rectangles, circles, and triangles. These abstractions grow crisper as they near painting's top layer, giving viewers a three-dimensional experience on a two-dimensional surface.
Creating space: 'I like a bigger garden'
'I like a bigger garden' is a quote from the famed New York gallerist Betty Parsons (1900–1982), an early promoter of abstract expressionism who rebuffed a number of famous artists—including Mark Rothko and Jackson Pollock—that asked her to focus solely on promoting them. Parsons, like the Julius Baer Art Collection, chose to support a diverse roster of up-and-coming artists.
The exhibition in Lucerne is also a homecoming for Herzig. Currently based in Brussels, Belgium, Herzig hails from Vevey, Switzerland, and received her B.A. in Visual Arts from École Cantonale d'Art de Lausanne prior to getting her M.A. in painting from the San Francisco Art Institute. For her, an institutional show like the one in Lucerne "is a big chance. I feel very lucky." Exhibitions were but one of the pandemic's many cultural casualties, and Herzig appreciates that the Kunstmuseum Luzern kept 'I like a bigger garden' on their calendar, postponing it by one year.
Herzig's organic abstractions make her presence apt in the Kunstmuseum Luzern's exhibition. Curated by Fanni Fetzer, 'I like a bigger garden' puts Herzig (b. 1983) and Belgian artist Ben Sledsens (b. 1991) in dialogue with Swiss painter Josephine Troller (1908–2004). The idea of a bigger garden is a literal and figurative theme in the exhibition, as the natural world is a common thread seen in the works of this trio of painters, while the exhibition plants their artistic talents on the museum's walls.
This being Herzig's first big institutional exhibition, she saw how much more is possible when working with a museum's team. "It's very different than doing everything on your own," she says. Being offered total creative freedom, Herzig set out "to include Josephine Troller and reach out to her by creating space." Herzig does not take a subjective approach in the studio: "For me, painting is above all creating space. I try to invite the viewer to navigate fields of sensations."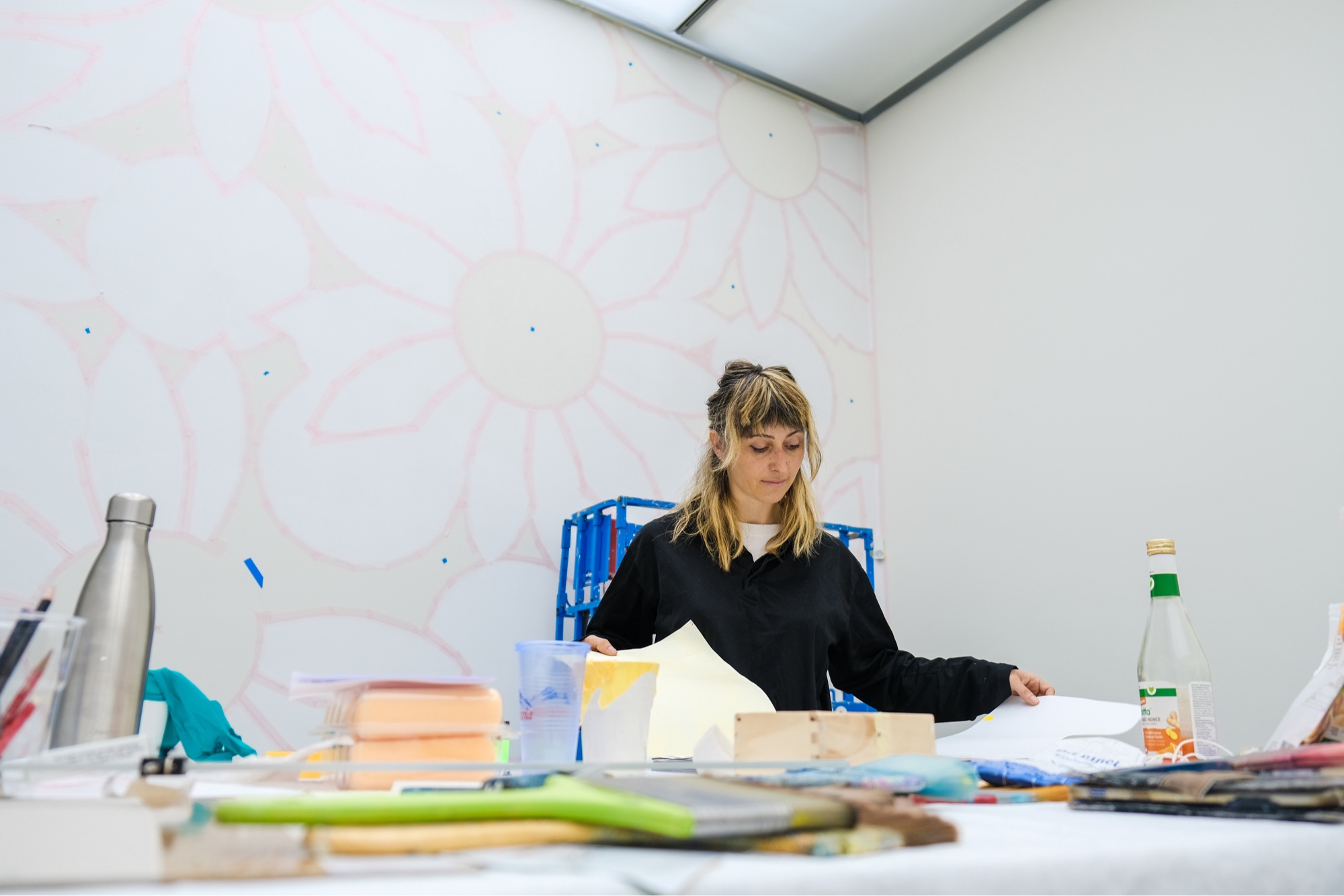 Charlotte Herzig is preparing the exhibition 'I like a bigger garden' at Kunstmuseum Luzern
Navigating an invisible map
When Herzig paints these spaces, she works without a plan—it's an act of improvisation, one in which she uses intuitive gestures, like a conversation that flows from one thing to another. It's also more than just painting: it's erasing. "I paint with a brush and a sponge. I erase a lot." For her, painting is "like an invisible map that I'm working with and navigating with." Herzig describes that her works in 'I like a bigger garden' are "like an extended inner choreography. I try to work with this invisible map and make it an immersive experience and environment."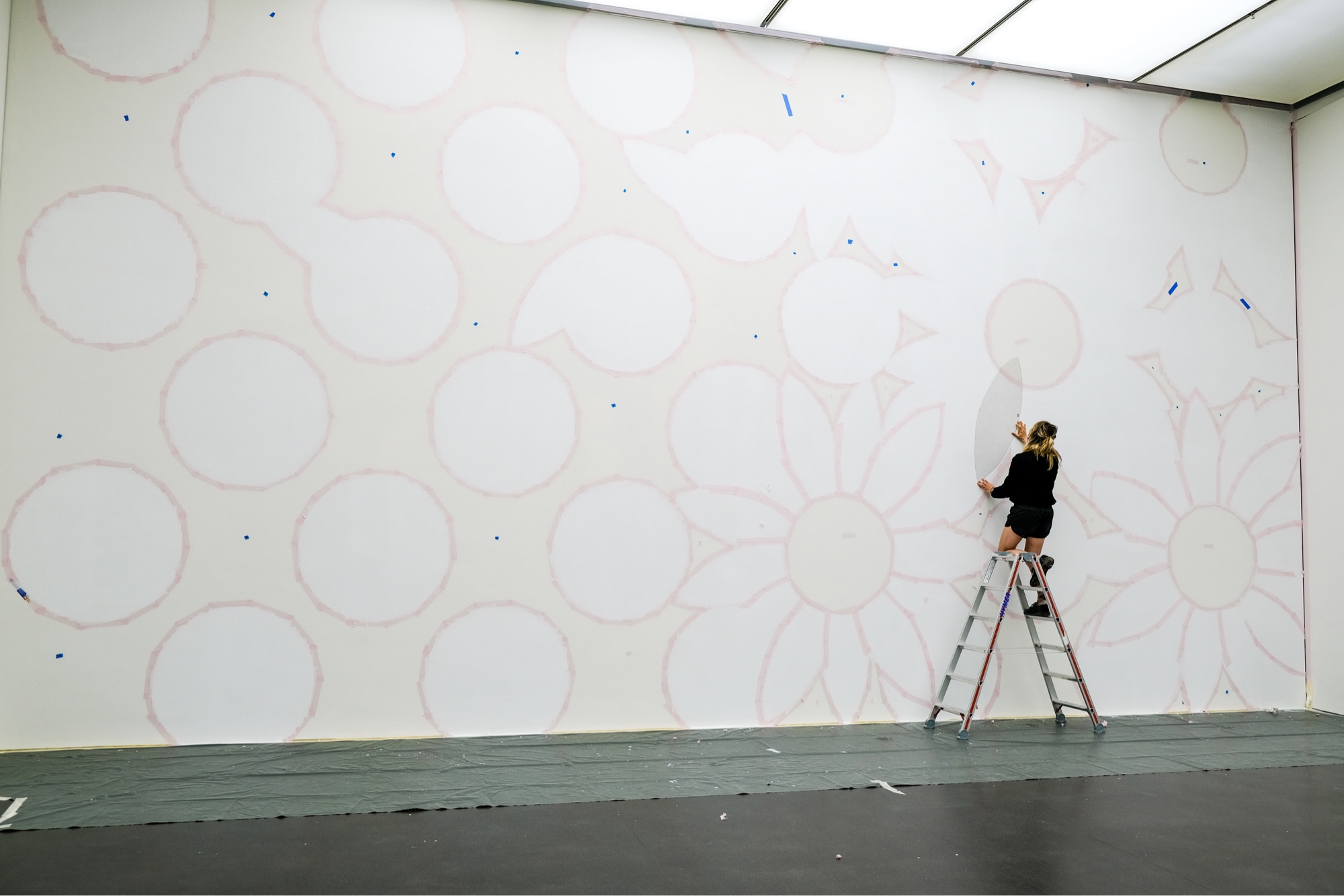 The artist installing one of her works on display at Kunstmuseum Luzern
The pandemic's trials
When the first lockdown was imminent, Herzig stockpiled painting materials to ensure she had everything needed to complete the exhibition works. Initially, a silver lockdown lining appeared to be the luxury of unburdened time to work on the paintings, although Herzig, a new mother, was challenged by balancing her artistic practice with family life while in lockdown. "Everything was so uncertain," she reflected. "Then the situation became for me an occasion to reflect on my practice, and I experimented with new mediums and formats."
Although painting has always been Herzig's preferred medium as she finds it the most silent, she thrives in creative communities. As an art student in Lausanne, she participated in a collective that did numerous installations, immersive wall paintings and events. She was always painting, yet never felt alone. The lockdown proved especially difficult for her in this way, but despite the pandemic's trials, Herzig completed the works for 'I like a bigger garden'.
A chorus of artists: Joining the Julius Baer Art Collection
Then came another stroke of luck: with the show's postponement, Herzig shared these new works, including 'You can't be seen until you learn to see', at a solo gallery exhibition in Basel in late 2020, which is when Julius Baer chanced upon the painting. Julius Baer's acquisition of this work is of no small significance to Herzig: "it means a lot to me to have this work in the collection. I know that the painting will be well taken care of." It aligns with her pull toward collectives: "when a work becomes part of a collection, it joins a group of voices among other artists."
Another vital outcome of the acquisition is that it allows Herzig to reinvest in her work. Her next project is with a performance collective called "Old Master"; she is participating as an actor and creative collaborator. Herzig's invisible map leads her forward, where creative treasure abounds.
The Julius Baer Art Collection
The Julius Baer Art Collection comprises a comprehensive selection of contemporary Swiss art that numbers over 5,000 pieces, spanning a wide array of media. Since its inception, the focus of the Julius Baer Art Committee has been to find outstanding Swiss artists at an early stage. Please follow this link to view a regularly changing and thematic selection of artworks from the collection and follow our Instagram account @juliusbaerartcollection.
Author: Jennifer Magee Stenger