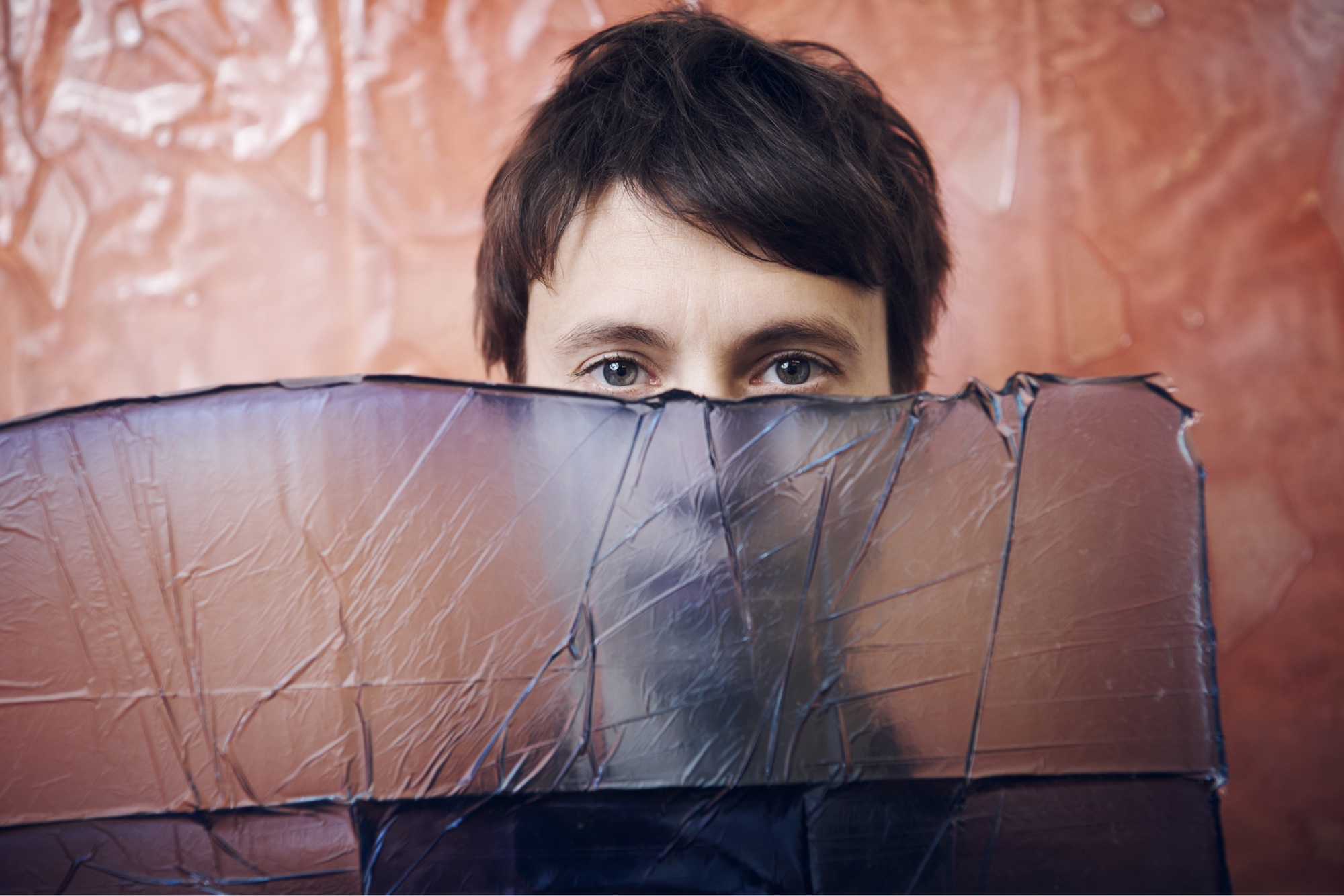 Photo: © Gian Marco Castelberg
Swiss artist Vanessa Billy (b. 1978) bends reality and ideas into forms that are at once familiar and foreign. In 'We Become', the artist's solo exhibition at the Kunsthaus Pasquart in 2021, what appeared to be a pair of giant pink lightbulbs were splayed on the floor—one of many works that built an exhibition landscape of altered nature. The distorted glass spheres are reminiscent of bubble gum balloons just before they pop: gossamer pink bellies that transition to crimson red where the handblown glass tapers into a cork fashioned from thick cables. Titled 'Prises de Conscience', 2019, these objects wed the industrial and handmade, provoking an urge in the viewer to touch them, while simultaneously one senses danger coursing through the work.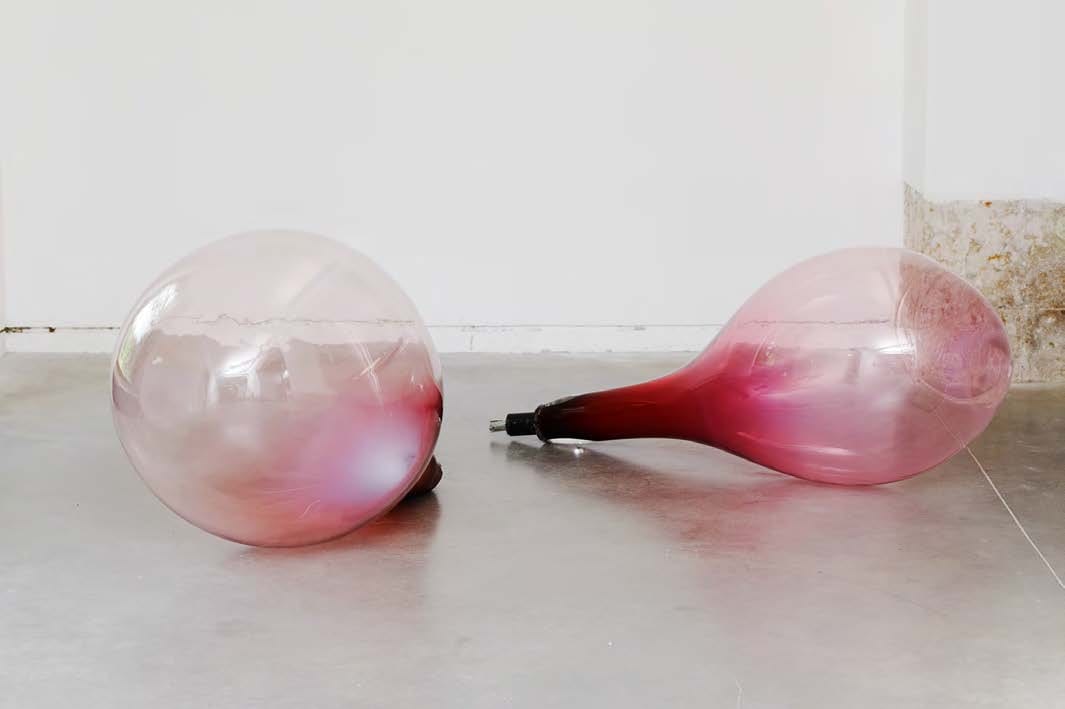 Vanessa Billy (b. 1978), 'Prises de Conscience', 2019, handblown glass, industrial cables, silicone, 72 x 63 x 122 cm, courtesy the artist and Julius Baer Art Collection, photo: © Aurélien Mole
Acquired by the Julius Baer Art Collection in May 2021, 'Prises de Conscience' encapsulates the complex ideas linked in Billy's art: natural and manufactured environments, energy and transformation, growth at the hand of destruction, waste generated by consumption. The urgent ecological, ethical, and human messages Billy's art conveys crescendo throughout her career—a growth tracked by the Julius Baer Art Collection's support of her work, beginning with their 2010 purchase of 'What sticks', a collage on a found image.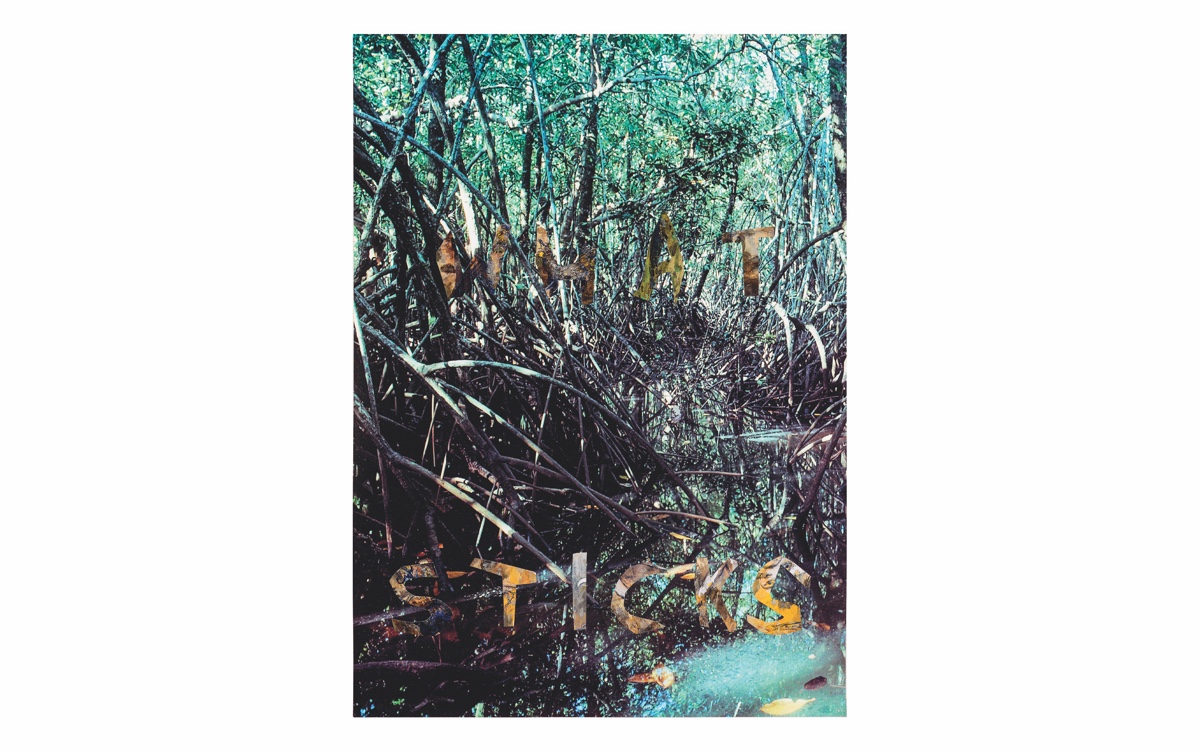 Vanessa Billy (b. 1978), 'What sticks', 2010, collage on found image, 25.5 x 37.5 cm, courtesy the artist and Julius Baer Art Collection, photo: © David Aebi
After Billy earned her Bachelor's in Fine Art at Chelsea College of Art, she began working with found materials she discovered on the way to her London studio. In that time, she pivoted away from the self-reflective work she made as a student, allowing herself more room for experimentation. While this was a shift, Billy's Chelsea years provided her with a multidisciplinary experience driven by ideas rather than aesthetics—an approach to artmaking that still propels her work today. In her past and present art, Billy describes "having an idea of what would happen with a material, and then the material takes me places I wouldn't have reached otherwise."
Material Language
Billy fearlessly explores materials, even once mixing concrete without gloves and paying the price with painfully dry, cracked hands. She finds meaning through the push and pull of materials: 'Push and Pull', 2011, a sculpture in the Julius Baer Art Collection, renders two hands—one smooth, one mottled—opposite, yet connected. 'Meet Me at Dawn', 2010, also in the collection, looks like a frothy pancake but is a folded patty of dyed concrete, a trick of the senses fitting for Alice's Wonderland. Billy reaches a desired intellectual ground through her precise language of material and form articulated in these works, as with 'Prises de Conscience'.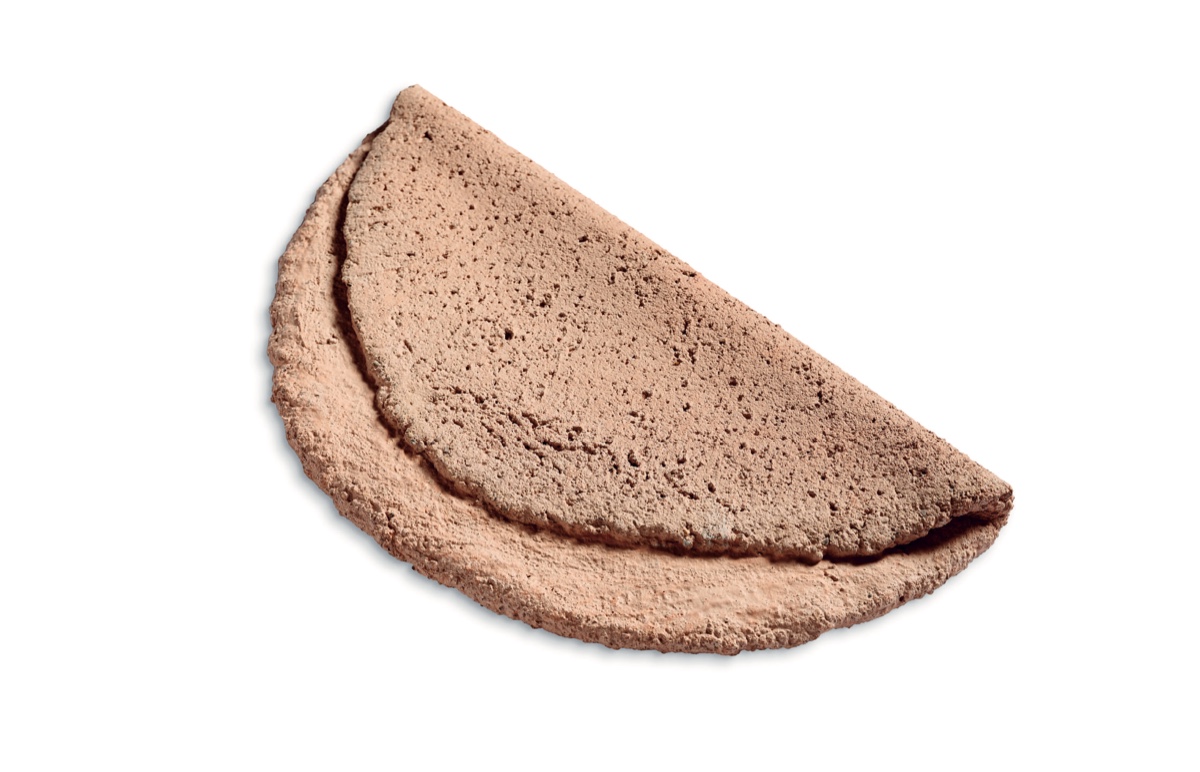 Vanessa Billy (b. 1978), 'Meet Me at Dawn', 2010, dyed concrete, 48 x 26 x 4.5 cm, courtesy the artist and Julius Baer Art Collection, photo: © David Aebi
The literal translation of the French title 'Prises de Conscience' is "awakening." This simple definition is just one of the many layers with which Billy builds meaning. "The climate crisis is a 'prises de conscience'," Billy explains. "Humanity is waking up to its downfall when you understand the scale of it and the factors. And 'prises' means "electric plug," but also a "catch," like a fisherman's catch." As you peer into the distended pink bubbles composing 'Prises de Conscience', their delicate forms of captured breath make them feel prescient: looking glasses that reflect our contribution to the climate crisis and our agency to do something about it. Billy shares that the work is about "how energy is used and connected, and the exploitation of resources—resources that are scarce and problematic—needed for a transmission of energy."
Contingency Plans
Meaning is embedded in the materials Billy employs in her work. She is mindful about the resources she uses to bring form to her ideas, considering their provenance and potential. The basic materials Billy used early in her career have grown more complex with time, a progression seen in the Julius Baer Art Collection with Billy's 'Nuclear sun', 2016, a yellow orb made from bio-sourced resin and dye. It's a departure from the earlier works and is born from Billy's desire to find more sustainable resources. And for other more recent works, Billy transformed recycled PET bottles into plastic fishbones and made silicone moulds of tractor tires that look like enormous centipedes. While Billy has found alternatives to petroleum-based plastics, she continues seeking healthier mediums.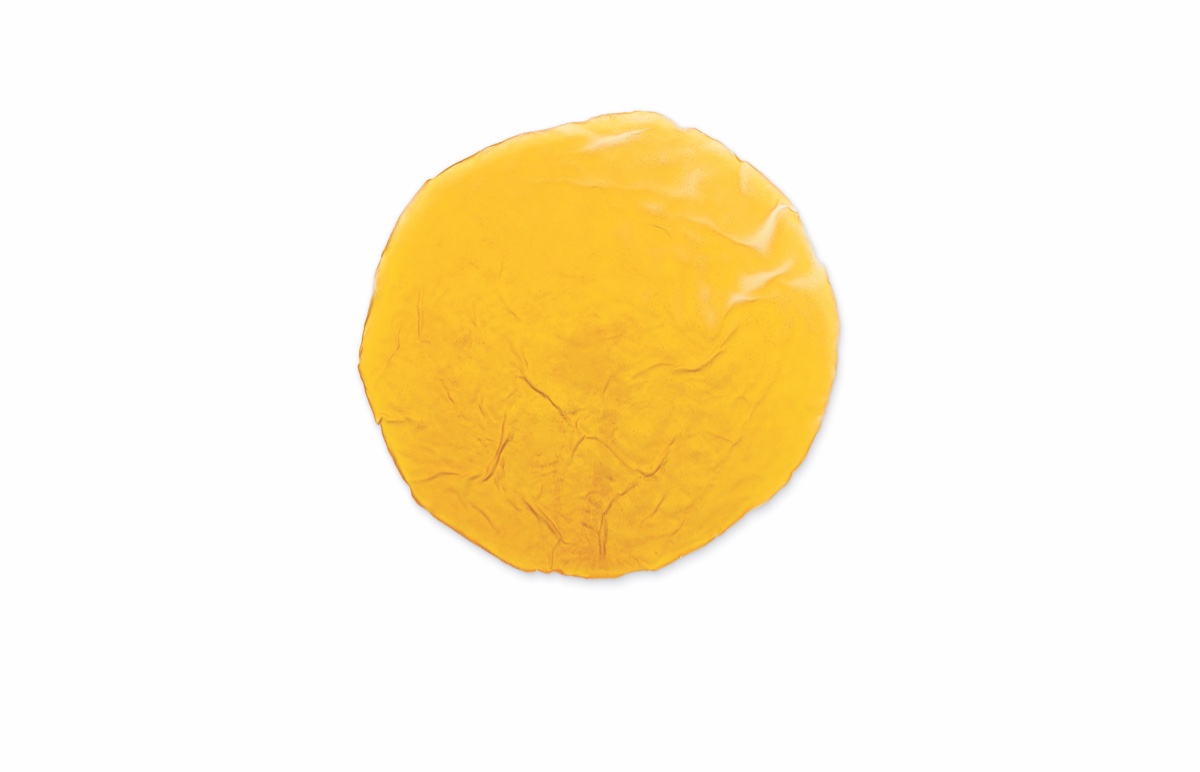 Vanessa Billy (b. 1978), 'Nuclear sun', 2016, organic resin and dye, Ø 67 cm, courtesy the artist and Julius Baer Art Collection, photo: © Alexander Hana
Billy was already researching such materials before the pandemic hit, but at centres outside of Switzerland. Although she'd already given up flying before the pandemic, Covid travel restrictions brought her search even more local, leading her to discover the Plastics Innovation Competence Center (PICC) in Fribourg. When speaking of the PICC's work to turn chicken feathers into new material, Billy's enthusiasm is palpable: "How do you make a material without adding anything toxic? It's so exciting and so complicated. It's a big realization to see how long it takes to bring new material to the market, to understand how long a material will survive."
Billy's work deftly expresses contingency: for example, take an object made by the artist in 2020: 'Centipedes'. Billy asked a French farmer to make a cast of the tractor's tracks on the soil, hoping to get an impression of them using their unmediated imprint. But it didn't work, so she cast directly on the tire instead. Billy was using a food-grade silicone that sets within five minutes. At first, she thought it was a failure because the silicone was so runny, only to realize that the drips made the work come alive, creating unexpected tentacles mimicking those of the soil's microorganisms she had in mind when she began working on the piece.
This work also encapsulates the primary ideas found in Billy's oeuvre: ecology, microplastics, and what we do to contribute and mitigate the destruction of our planet. These ideas extend to Billy's current and upcoming projects, which include an exhibition called 'Oil: The Beauty and Horror in the Petrol Age' at the Kunstmuseum Wolfsburg that later travels to Rotterdam in a reworked form and the release of her monograph 'Vanessa Billy — We Become'.
Support That Sustains
Sustainability is not just key to Billy's art—it's essential to her relationships. Continuity and friendships with curators, writers, artists, institutions, and collections, including the Julius Baer Art Collection, have buoyed her career's ascending arc. Billy appreciates that the collection doesn't shy away from the demands and challenges her art poses with its physical and intellectual presence. "It's a really nice thing to have people who follow, know, and care for your work. It's very meaningful in a world where things go so fast."
Author: Jennifer Magee Stenger
The Julius Baer Art Collection
The Julius Baer Art Collection comprises a comprehensive selection of contemporary Swiss art that numbers over 5,000 pieces, spanning a wide array of media. Since its inception, the focus of the Julius Baer Art Committee has been to find outstanding Swiss artists at an early stage. Please follow this link to view a regularly changing and thematic selection of artworks from the collection.